2015 NoSCA Senior League
Sponsored by Black Dog Financial Services Ltd
Team
P
W
D
L
Pts
%
Fort William
1
1
0
0
20
100.0
Highland
1
1
0
0
20
100.0
Forres St Lawrence
1
1
0
0
20
100.0
Ross County
1
0
0
1
5
25.0
Elgin
1
0
0
1
1
5.0
Northern Counties
0
0
0
0
0
0.0
Nairn County
1
0
0
1
0
0.0
Fochabers
0
0
0
0
0
0.0
Buckie
0
0
0
0
0
0.0
2015 NoSCA Reserve League
Sponsored by Black Dog Financial Services Ltd
Team
P
W
D
L
Pts
%
Forres St Lawrence
0
0
0
0
0
0.0
Ross County
0
0
0
0
0
0.0
Fort William
0
0
0
0
0
0.0
Huntly
0
0
0
0
0
0.0
Northern Counties
0
0
0
0
0
0.0
Fochabers
0
0
0
0
0
0.0
News Headlines
NoSCA Wallchart 2015 now available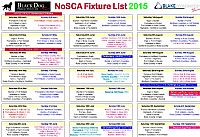 A wallchart showing all NoSCA Senior & Reserve team fixtures for 2015 is now available . Click the image below to download a PDF version which you Full Story...
Handbook available for download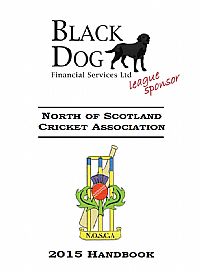 Copies of the NoSCA Handbook 2015 are now available for download. Click the cover image below to get your PDF version of the handbook. Physical copies Full Story...