Welcome to NoSCA

2016
The North of Scotland Cricket Association area covers a considerable part of Scotland extending as it does from Buckie in the East to Isle of Skye in the West and from Caithness & Orkney in the North to Fort William in the South. Within our area there are 14 clubs registered with Nosca (see Clubs menu above for links to our member clubs).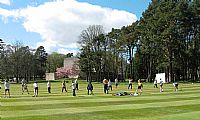 NoSCA run a number of competitions: Senior and Reserve leagues (sponsored by Black Dog Financial Services), Senior and Reserve cups and Senior and Reserve T20 (sponsored by Blake Geoservices).

If you are new to the area or thinking about taking up the game the details of all NoSCA clubs are included on the Clubs pages. If you require any further assistance please contact any member of the Executive
Punkie to Pound for a Purpose

Allan Duncan will be pounding the streets this April running the London Marathon in an attempt to raise £2,500 for the Moray Cricket Association.

Visit Allan's JustGiving page to lend your support to this superb cause

Cricket Scotland Consultation

NoSCA AGM

Sunday 7th February 2016
Elgin City Football Club - 2.00pm

Papers for the AGM have been circulated but can also be downloaded from the links below.

Immediately following ther business of the AGM, Tony Brian (Chair of Cricket Scotland) will be making a presentation on the proposed changes to governance at CS.