Welcome to NoSCA

2016
The North of Scotland Cricket Association area covers a considerable part of Scotland extending from Buckie in the East to Isle of Skye in the West and from Caithness & Orkney in the North to Fort William in the South. Within our area there are 12 clubs registered with Nosca (see Clubs menu above for links to our member clubs).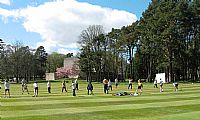 NoSCA run a number of competitions: Senior and Reserve leagues (sponsored by Black Dog Financial Services), Senior and Reserve cups and Senior and Reserve T20 (sponsored by Blake Geoservices).

If you are new to the area or thinking about taking up the game the details of all NoSCA clubs are included on the Clubs pages. If you require any further assistance please contact any member of the Executive
News Headlines
Cricket was well represented at the sportMoray Awards 2016 held at Elgin Town Hall on Monday 21st November. Iain McDonald took the Local Service to Full Story...