Welcome to NoSCA

2015
The North of Scotland Cricket Association area covers a considerable part of Scotland extending as it does from Buckie in the East to Isle of Skye in the West and from Caithness & Orkney in the North to Fort William in the South. Within our area there are 14 clubs registered with Nosca (see Clubs menu above for links to our member clubs).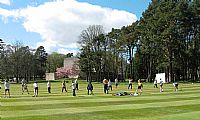 NoSCA run a number of competitions: Senior and Reserve leagues (sponsored by Black Dog Financial Services), Senior and Reserve cups and Senior and Reserve T20 (sponsored by Blake Geoservices).

In 2015 a NoSCA Select Team will play against the MCC (at Gordonstoun on Monday May 4th) and also compete in the Cricket Scotland Challenge Cup - being drawn away at Gordonians in Aberdeen on Sunday 28th June.

If you are new to the area or thinking about taking up the game the details of all NoSCA clubs are included on the Clubs pages. If you require any further assistance please contact any member of the Executive
sportscotland

Coaching, Officiating and Volunteering Awards 2015

(click image for more information)

Buckie 2nd XI Lift First Silverware of the Season

Senior T20 Cup Draw
2015 Senior Cup Draw
NoSCA Annual Dinner - Sat. 24th October

Guest Speaker

Angus Fraser

(Middlesex & England)

Elgin Golf Club

Tickets £30 - see your Club rep for details
News Headlines
The following umpires are appointed for this Saturday's scheduled Senior League games. 01-Aug Elgin v Buckie R Full Story...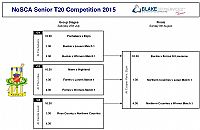 The Senior T20 Finals Day will take place at Cooper Park, Elgin on Sunday 9th August. The game schedule is as follows :- 10.30 - Northern C Full Story...
2015 Senior League
Sponsored by Black Dog Financial Services Ltd
Team
P
W
D
L
Pts
%
Highland
9
7
0
2
155
86.1
Forres St Lawrence
10
8
0
2
171
85.5
Buckie
9
7
0
2
152
84.4
Fochabers
7
5
0
2
107
76.4
Northern Counties
8
5
0
3
116
72.5
Fort William
8
3
0
5
78
48.8
Ross County
8
2
0
6
62
38.8
Nairn County
9
2
0
7
63
35.0
Elgin
10
0
0
10
33
16.5