Individual Statistics for MCA Junior Competitions in 2016
---
Junior cricket development for boys and girls in the NoSCA region is undertaken by two separte groups - the Moray Cricket Association (MCA) in the East and the Highland Cricket Development Group (HCDG) in the West.
---
Junior Cricket

2015/16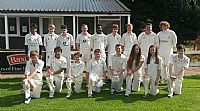 NoSCA are delighted to announce a series of indoor coaching courses for all age-group cricketers in the north of Scotland over the Winter of 2015/16.
During the close‐season there will be opportunities for all our junior cricketers to both develop and hone their skills. The Highland Cricket Development Group (HCDG) and Moray Cricket Association (MCA) will be running Caledonia North Region Development Centres (CNRDC) satellite programmes starting in November, and the regions more talented youngsters will be involved in an NRDC programme based at Huntly.
Each session costs £5 to attend, or those interested in being involved in a long term programme can pay a one-off £50.
Click HERE to download a full information sheet or contact Neil Cameron (07794) 303332 for futher information
---
The 2015 Festival of Cricket for Junior players in the NoSCA region will take place in early August. There will be games for both U13 and U15 age group players, starting with NoSCA East v NoSCA West (HCDG v MCA). From this game a NoSCA XI will be selected to play versus the equivalent Aberdeenshire Cricket Association team.
Full detail of the programme can be downloaded by clicking the image below.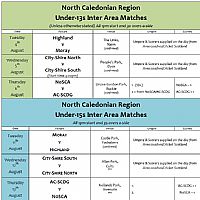 ---
NoSCA has an active Junior setup via its member clubs there is an extensive programme of age group cricket sceduled for Season 2014 and again in 2015 - particualrly among MCA clubs.
Junior Coaching is undertaken by two regional development groups - the Moray Cricket Association (Nairn - Fochabers) and the Highland Cricket Devlopment Group (Inverness area), which was reformed in 2014.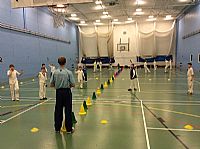 A seventeen week indoor winter training programme for U13 - U15 has been arranged at Culloden Academy on Sundays from 16th November - 14th December and from 11th January - 29th March. The cost is £50 per child.
For more information contact Neil Cameron, Cricket Scotland North Club Development Manager (07794 303 332).
News Headlines
Cricket was well represented at the sportMoray Awards 2016 held at Elgin Town Hall on Monday 21st November. Iain McDonald took the Local Service to Full Story...